Vale Philip Dulhunty OAM
It is with great sadness that we announce the passing of long time CIGREAN Mr. Philip Dulhunty OAM.
Philip passed away in his sleep early on Sunday 29th from Aspiration Pneumonia.
Philip achieved a lot during his 96 years including serving in the military in the Pacific during WW2, being one of the first Australians to land in Japan at wars end as a member of the occupational forces and following the war with his brother, establishing the Sunderland flying-boat air service between Sydney and Port Macquarie..
Phil was a larrikin, a doer, an inventor, a major contributor to the electricity supply industry (particularly in overhead lines,) and was responsible for establishing many companies and businesses, travelling the world many times and cultivating his love of flight and seaplanes in particular. Phil was well known and respected throughout the industry and CIGRE regionally and globally for his knowledge, friendship and quick wit.
He has been a past Chairman of CIGRE Australia, represented us internationally for many years and was made a CIGRE Honorary member in 1996 in recognition of his long involvement and work for CIGRE.
Keeping his pilot's licence until the great age of 90 and Presidency of the Sea Planes Association of Australia, Philip infected all who knew him with his drive and enthusiasm and lived a full and adventurous life reflected in the title of his autobiography - "Never a Dull moment".
Our thoughts are with his wife Lenore and family. He will be remembered always.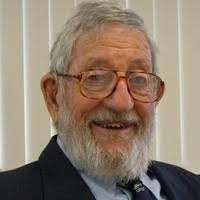 27 April 1924 - 29 November 2020