New NGN Co-Chair Announced !
CIGRE Australia is pleased to announce that Mr. Phil Coughlan of Level Crossings - Victoria has been endorsed as the incoming Co-Chair for 2021-22. Phil will take up the role in November of this year. He has been an integral part of the team at CIGRE Australia for many years, initially Secretary of the Australian Technical Committee, before transitioning to B1 NGN Liaison this year.
Phil's enthusiasm and collaborative nature has resulted in great outcomes for the group and we look forward to his contribution to the Co-Chair role working with the other Co-Chair Mr Chris Wembridge of Entura over the coming years. Congratulations Phil!
CIGRE Australia in making this announcement also acknowleged the work of out-going Co-Chair Mr. Bing Lin of Jacobs for his contribution, guidance and development of the CIGRE young Engineers group (NGN- Next Generation Network) over the last three years.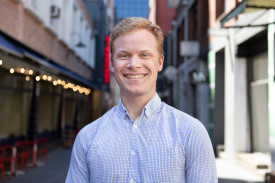 Incoming Co-Chair Phil Coughlin
Outgoing Co-Chair Bing Lin