New Director Elected to CIGRE Australia Board
At the November 2020 AGM, members confirmed the election of Dr. Stewart Bell to the vacant role of General Director on the CIGRE Australian Board.
Chairman Trevor Armstrong acknowledged and thanked the other two nominees - Mr Simon Emms (ElectraNet) and Mr. Roger Riley (Power System Consulting) for their interest in the role and support of CIGRE.
Mr Armstrong said he we pleased to be able to welcome Dr Bell to the board and looked forward to working with him and welcoming him in person in 2021.
Members also confirmed the election of current General Director Dr. Stephen Jay to the role of Treasurer, which was declared vacant following the resignation of Mr. Tony Armstrong. Dr Jay has been acting in the role since October and Mr, Trevor Armstrong said the board was happy to see him nominate and take on the role. Mr Trevor Armstrong also acknowledged the work and input of Mr Tony Armstrong who has been in the Treasurer Role since being elected in 2017.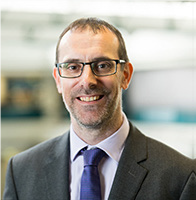 Dr Stewart Bell - Powerlink.
The full listing of the CIGRE Australia board for 2021 can be viewed HERE