News
»
Latest NEWS
» CIGRE Cairns Symposium - Keynote Speakers Confirmed !!
CIGRE Cairns Symposium - Keynote Speakers Confirmed !!
CIGRE Australia Chairman Dr. Sean McGoldrick and Mr. Phil Southwell (Chair of the local organising committee) today confirmed Mr David Shankey, Deputy Director-General of the Energy Division in the Queensland Department of Energy and Public Works and Mr. Adam Middleton, Vice President - Western Europe, Siemens Energy and Président, Siemens Energy SAS & Dresser-Rand SAS, France as the Keynote speakers for the CIGRE Cairns Symposium 4-7 September 2023.


Dr. McGoldrick said CIGRE Australia was honoured that both David and Adam have agreed to speak at the opening of the Symposium which will be held at the Internationally renowned Cairns Convention Centre and is expected to attract over 500 local and international delegates.

Dr McGoldrick commented that both David and Adam are very much involved in work involving the key theme of the Symposium which is how we may address the necessary energy transition to the power system of the future. Dr McGoldrick commented "They will be able to bring both a local Qld and international perspective which will nicely frame the week's discussions".

Both Dr McGoldrick and Mr Southwell said they were looking forward to welcoming delegates to the Symposium and were certain that it would be a memorable and technically informative experience for all delegates.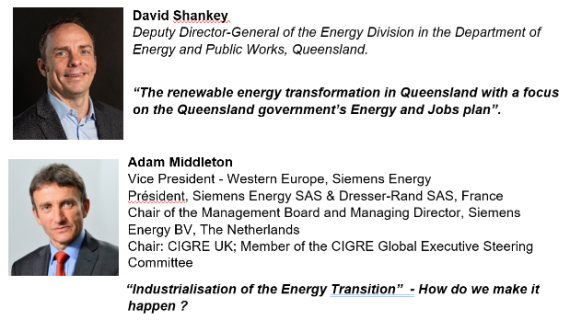 For the latest information and to register for the Cairns Symposium, goto the Cairns Symposium Website