Cairns Symposium a Hit at Paris Session 2022 !
CIGRE Australia exhibited and marketed next year's Cairns Symposium at the recently completed Paris Session 2022.
There was significant interest in the Symposium and the photo booth we had at our stand proved very popular - -with delegates able to have their photo taken against a selection of Cairns backdrops.
Our NGN (Young Engineers) wore Akubra type 'Aussie' Hats with a Cairns Symposium hat band, which really stood out among the 3700 delegates and we had several offers to buy them from us.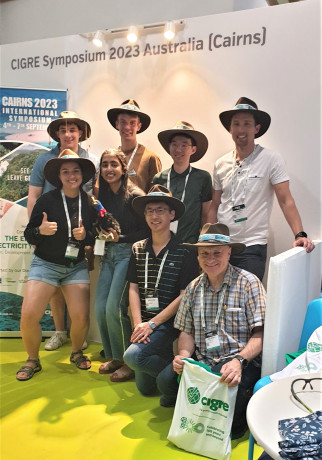 During the Session, CIGRE Study Committee A3 - Transmission and Distribution Equipment voted to join us in Cairns 4-7th September 2023.

This now means we will have eleven (11) of the sixteen (16) CIGRE Global Study committees attending to discuss topical and relevant technical issues from around the globe.

The Cairns Symposium is shaping up to be a very significant event covering the whole gamut of the industry considering the Transition, development and integration of the End to End Electricity System. Continuing discussion of many of the issues raised at the Paris Session and very topical and relevant to current policies and trends in the industry.

The CALL FOR PAPERS and Super Early Bird Registrations are now OPEN.

The Symposium Website has ALL the information on the event, including location and tour information. The technical program is due to be added at the end of January 2023.

Have a look at the website NOW and make sure to schedule time in your calendar to attend this premier event in the beautiful Cairns sub-tropical location - 4th -7th September 2023.