Joint Working Group C6/B4.37, "Medium Voltage DC Distribution Systems".
Medium voltage DC (MVDC) acts in the same way as high voltage but on a smaller scale and over smaller distances or at a specific site. This allows much more controlled and flexible ways of grid operation beyond the scope of conventional AC systems and can be one of the critical enablers for the transition to a net zero carbon emission network. While application of the technology is still limited, its future role is very promising. JWG C6/B4.37 has now published Technical Brochure (TB) 875 which summarizes the latest industrial practices and engineering insights, academic interests, and research advancements on MVDC systems. The Australian member of the JWG was Georgios Konstantinou.
The JWG builds upon and leverages the expertise and knowledge from different CIGRE Study Committees to present the potential advantages of MVDC systems that incorporate Distributed Energy Resources (DER) as an alternative to AC distribution systems.

Figure 1 below provides an example of how a typical MVDC distribution grid could be structured.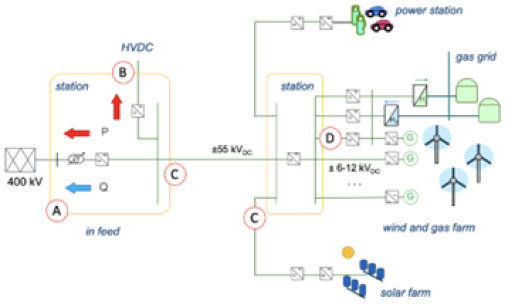 The JWG envisages multiple roles for MVDC based distribution systems, both within existing power grids as well as greenfield deployments. Such options include:
An increase in power transfer capacity from existing assets, allowing higher DER penetration.
Holistic control across all DC networks through fully controllable coupling between the low voltage and high voltage systems.
A more controllable and reliable supply to critical and general loads.
Reduction in power system losses and more efficient power transfer.
Supporting transportation electrification through high-power DC charging.
As power electronics will play the most critical role in the development and successful implementation of MVDC distribution systems, TB875 also provides an overview of converter topologies and network architectures suitable for MVDC systems and a comparison of efficiency, reliability and return on investment for different power electronics converters in MVDC systems. From a fault analysis point of view, internal faults as well as four external faults (i.e., near AC faults, far AC faults, HVDC faults and LVDC faults) are identified as critical for MVDC system protection.
Throughout the TB, JWG C6/B4.37 also identifies the lack of standards that are specifically aimed at MVDC applications, for instance in the areas of commissioning, testing and protection, but also highlights potential synergies, across many areas, with existing standards and practices from LVDC and HVDC systems.
The five technical chapters of the TB cover MVDC distribution system and planning, MVDC network protection requirements, interconnections of MVDC systems to LV and HV networks as well as current applications of MVDC systems in drives, offshore wind power collection systems, marine vessels, transportation and remote/mining sites. A case study based on the UK ANGLE DC MVDC project and lessons learned from the upgrade of an AC line to DC can be found in Appendix B.
The technical brochure is free for members and 220€ for non-members and can be downloaded from e-cigre: