Transformer Reliability Webinar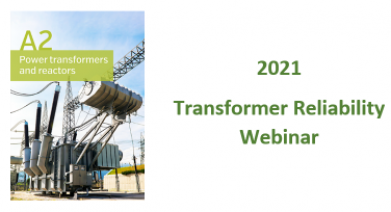 CIGRE is offering an online reliability webinar/workshop.
The workshop will be held over 3 different days, with sessions of approx 2-3 hrs each.
The format of session one and two will be a mix of tutorial and presentations, whilst session 3 will be a live panel feedback and question session.
Expert and experienced speakers, including an international tutorial from Dr. Dan Martin referencing the work of the CIGRE WGA2.62 – International Transformer Reliability Survey.
All delegates will receive a link to the recording and pdf of the presentations. The recording link will be available for 12 months after the presentation so will be a useful resource to come back to for reference.
Tuesday 18 May 9am - 12pm (AEST)
A mix of tutorial and presentations.
Thursday 20 May 9am - 12pm (AEST)
A mix of tutorial and presentations
Wednesday 26 May 10am - 1200 AEST
A panel Session
Speakers from all presentations will be available live online to take Questions. (via an online chat facility)
Questions for the panel session will be able to lodged beforehand or via the online chat facility on the day.

Price includes access to the webinar for all three sessions plus access to a link to download the presentations and the recording of the session.