CIDER 22
Event to be held 10 & 11 May 2022
============
A Taste of CIDER - Click HERE to view a couple of presentations from the recent 'A Taste of CIDER' to give an example of what to expect at the Physical CIDER event in Adelaide.
NOTE: This is a Physical Event only and will not be telecast via a Web Platform.


CIGRE Australia in conjunction with our C6 Technical panel ( Active Distribution
Systems and Distributed Energy Resources.) is pleased to be able to present the 4th CIDER (Conference on the Integration of Distributed Energy Resources) in Adelaide in May 2022.
As with previous CIDER events, this will provide two days of interesting technical content delivered by practising hands on technical experts in their field. There will be the usual evening informal networking function and opportunity for sponsorship and exhibitions.
If you have any questions or need assistance, please contact our office (07) 3310 8838.
All rates are INC GST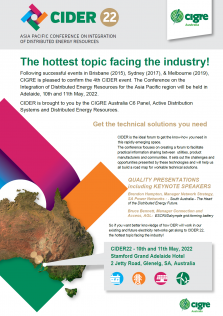 Accommodation Offer: